News
Arbaeen rituals planning this year better than ever: Iran envoy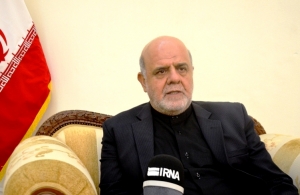 Planning for Arbaeen religious ceremonies, falling on Nov 9 this year, has been better than the previous year, Iran's ambassador in Baghdad announced in this southwestern border crossing.
'There has been no problem for the pilgrims to enter Iraq to attend the Arbaeen rituals,' Iraj Masjedi said at a local meeting on Sunday.
He appreciated the efforts made by the Iranian and Iraqi officials to ensure peace and security for the pilgrims.
Referring to the agreement between the foreign ministries of the two countries, Masjedi said it helped a lot maintain security and order for the pilgrims.
The Arbaeen mourning ceremony is one of the largest religious gatherings in the world.
It marks the 40th day after the martyrdom anniversary of the grandson of Prophet Mohammad (PBUH), Imam Hussein (AS), the third Imam of Shiite Muslims.
Each year, millions of pilgrims, mainly from Iraq and Iran, travel long routes on foot to Karbala, where the holy shrine of Imam Hussein (AS) is located.