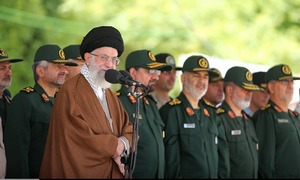 Khamenei calls for stronger Iranian military to deter enemies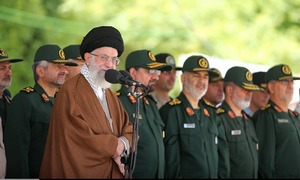 Iran's supreme leader called on the armed forces on Thursday to increase their capabilities in order to
protect the Islamic Republic's influence in the Middle East and deter would-be attackers.
"The armed forces must urgently increase their readiness, so that the enemy dare not think of attacking," Supreme Leader Ayatollah Ali Khamenei was quoted as saying by Iranian agencies in a meeting with army commanders.
Khamenei often invokes an unspecified "enemy" when talking about Western powers, particularly the United States and Israel, which he suspects of plotting to overthrow the Islamic Republic.
Tensions have also been on the rise between Iran and Saudi Arabia, and Khamenei on Wednesday threatened a "harsh reaction" if Saudi Arabia showed disrespect to hundreds of Iranians killed in the kingdom during a stampede at the haj pilgrimage.
The two powers trade frequent criticisms and back opposite sides in a series of conflicts across the Middle East, but have held back from overt confrontation.
Saudi Arabia warns of Iranian expansionism, whereas Tehran says it is a peaceful power but insists on its right to influence in the region.
"The future of the country is in the hands of its youth, who must recognise their strength and help tomorrow's Iran be more capable, powerful, and influential in the region and the world," Khamenei said.