Books
Sectarianism in Islam: The Umma Divided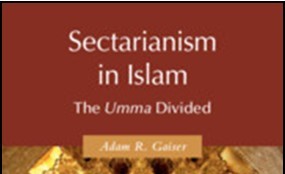 By Adam R. Gaiser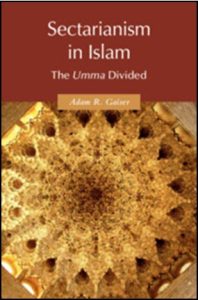 Sectarian divisions within the Islamic world have long been misunderstood and misconstrued by the media and the general public. In this book, Adam R. Gaiser offers an accessible introduction to the main Muslim sects and schools, returning to the roots of the sectarian divide in the Medieval period. Beginning with the death of Muhammed and the ensuing debate over who would succeed him, Gaiser outlines how the umma (Muslim community) came to be divided. He traces the history of the main Muslim sects and schools – the Sunnis, Shi'ites, Kharijites, Mu'tazila and Murji'a – and shows how they emerged, developed, and diverged from one another. Exploring how medieval Muslims understood the idea of 'sect', Gaiser challenges readers to consider the usefulness and scope of the concept of 'sectarianism' in this historical context. Providing an overview of the main Muslim sects while problematising the assumptions of previous scholarship, this is a valuable resource for both new and experienced readers of Islamic history.
Reviews
'This is an enlightening, comprehensive analysis of how Muslims forged and re-forged their identities and sense of belonging to different sects and schools of thought. Through the lenses of belief, narrative, and memory, this volume outfits the reader with a new way of understanding 'Islamic sectarianism' from its origins at the dawn of Islam up to its reverberations today.'
Ersilia Francesca – University of Naples L'Orientale
'This is a concise, instructive introduction to a complex topic that skilfully draws the broad outline without overlooking the necessary nuances. Adam Gaiser alerts the reader to the relevant terminological issues, the limits and ambiguities of sectarian affiliations, and the contextual nature of sectarian permeability and strife throughout the centuries of Islamic history.'
Maribel Fierro – Spanish National Research Council
'Professor Gaiser's book is a brilliant history of Islamic sectarianism. Islamic history in its richness and complexity is presented in a sophisticated theoretical framework that will set a new standard in how we treat Islamic religious history. This is one of the best works to appear in recent years, and it is beautifully written.'
Walid Saleh – University of Toronto
Adam R. Gaiser is Professor of Religion at Florida State University. He has previously published two books on the early Kharijites and Ibadiyya: Muslims, Scholars, Soldiers: The Origin and Elaboration of the Ibāḍī Imāmate Traditions (2010) and Short Legends, Ibāḍī Identities: Martyrdom, Asceticism and the Making of an Early Islamic Community (2016).
Publisher: Cambridge Univ  Press
Paperback  £22.99
ISBN: 9781009315210
Date of Publishing: November 2022