News
Syria territorial integrity highlighted in Astana meeting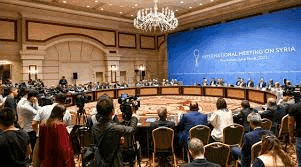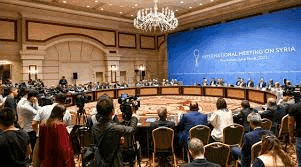 Russia, Türkiye, Syria, and Iran have emphasized the need for full implementation of agreements on northern Syria and compliance with the independence and territorial integrity of the war-torn country.
The four countries involved in the 19th international meeting on Syria in the Astana Format, which was held in Kazakhstan's capital, issued a statement condemning constant aggression by the Zionist regime against the Arab country, underlining the necessity for full implementation of all existing accords on northern regions of Syria, reviewing the situation of de-escalation zone in Idlib, and agreeing upon making more efforts to normalize the stable condition in the country.
In the final statement, which has been issued after two days of negotiations, the countries guaranteeing the Astana Format reiterated their firm adherence to preserving national sovereignty, independence and territorial integrity of Syria.
The four states ruled out all plots to separate parts of the Arab country, stressing that security and stability in northern Syria will achieve merely on the basis of defending national sovereignty and territorial integrity of the country.
They also condemned attempts made by states backing terrorist groups, including those who support separatists and back oil theft in Syria, and called for return of the oil revenues to the people of the conflict-stricken country.
The signatories to the statement further described the relentless attacks by the Zionist regime against Syria as violation of international laws as well as its national sovereignty and territorial integrity.
The representatives from Russia, Iran, Türkiye and Syria ruled out unilateral sanctions on the Arab nation, which is in contradiction with the United Nations Charter, calling for lifting the embargo and increasing humanitarian aids for all Syrians without any discrimination or political precondition.