Uncategorized
Right group slams killing of eight-year-old boy by Saudi-led coalition forces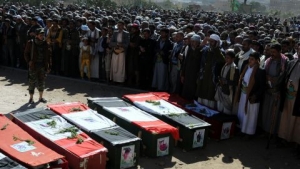 The Human Rights Office in Yemen has condemned Saudi-led coalition forces for killing eight-year-old boy in Mawiya district, Taiz province.
In a statement it issued, the Human Rights Office said the young boy, Ihab Malik Qassem Saeed Qaid, was fatally shot by sniper bullets near his house in the village of Habeel Thaba. 
Also, the group condemned the Saudi-led coalition and its mercenaries for committing crimes against civilians in the province, including targeting residential areas with shelling and sniping. 
The statement said the perpetrators of the crime must be punished for their action, highlighting the "unacceptable" silence of the international community toward the recurrent crimes. 
Earlier in June, another rights group known as the Rasad Coalition said it had documented the killing of some 3,200 children in the various regions of Yemen. More than 250 of the children were killed by live bullets, over 150 lost their lives to landmind explosions, and the rest died in bombardment. 
According to UNICEF, some 10,000 Yemeni children have been killed or maimed since the beginning of the US-backed war on Yemen, while a total of 11 million children need humanitarian assistance and some 400,000 suffer severe malnutrition. 
Moreover, the organization has reported than more than two million children are out of school and another four million are at the risk of dropping out, while 1.7 million children have been internally displaced because of violence. 
In March 2015, Saudi Arabia launched a war on Yemen in collaboration with its Arab allies and with the support of the US and some Western countries, which have been providing the invaders with intelligence, logistics and arms. 
The war was aimed at reinstalling the Riyadh-friendly regime of Abd Rabbuh Mansour Hani and crushing the Ansarullah resistance movement, which has been running state affairs in the absence of a functional government in Yemen. 
However, the Saudi-led coalition has achieved none of the objectives and remains bogged down in Yemen in the face of stiff resistance by its nation and armed forces.