News
London mayor angers at anti-Iranian violent protesters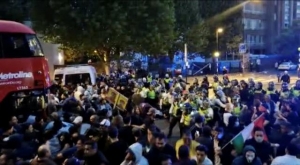 Violent protests and clash with the Metropolitan police outside the Iranian embassy in London angered mayor Sadiq Khan.
"The scenes that happened last night were completely unacceptable," Khan tweeted, referring to the protests outside the Iranian embassy and Islamic Center in London.
"The selfish minority that tried to hijack a peaceful protest must be brought to justice," he added.
Highlighting "the right to protest" as a cornerstone of democracy, the London mayor condemned "violence and attacks on our police and communities" as an act that will never be tolerated.
"I am in close contact with the Met commissioner and the police have my full support in pursuing those behind the disorder," Khan said in his tweet.
He also wished all injured officers a speedy recovery and urged Londoners with information about those involved to call the police anonymously at 101 or Crimestoppers.