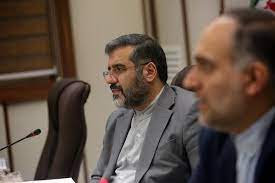 Iranian Minister of Culture and Islamic Guidance Mohammad-Mehdi Esmaeili said on Tuesday that Iran will promote its cultural diplomacy by actively participating in the annual UNESCO Summit.
Referring to the recent meeting of the Government Delegation with the Supreme Leader of the Islamic Revolution Ayatollah Seyyed Ali Khamenei, Esmaeili said that the Supreme Leader of the Islamic Revolution in this meeting called the cultural approach of the government the strengths of the government, which indicates that "we must actively and seriously continue our activities".
Pointing to the report by the Ambassador of the Islamic Republic of Iran to UNESCO, he added that the Ministry of Culture in the new era is concerned with boosting cultural schedules in UNESCO, on the other hand, by sending new cultural consultants to various states, it seeks to promote the cultural approaches of the government in the area of cultural diplomacy.
The Ministry of Culture has adopted a new policy in the international fields and has taken a completely transformational approach, as well as attending the annual UNESCO meeting in Mexico, trying to take a different approach in the field of cultural diplomacy, he highlighted.