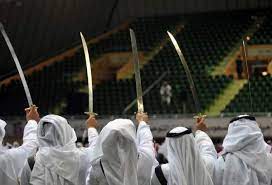 Europe-based human rights group has censured the spiking number of executions in Saudi Arabia in the first half of the year 2022.
The European Saudi Organization for Human Rights (ESOHR) said executions in the oil-rich Persian Gulf kingdom jumped to 120 during this period, with the country poised to surpass its record of executions in 2019, the Arabic-language Arabi 21 online newspaper reported on Wednesday.
The new statistics fly in the face of commitments given by Saudi authorities to curb the use of capital punishments, amid global anger and outrage.
Last year, a total of 65 people were executed in the kingdom, a slight drop from the previous year, which ESOHR attributed partially to coronavirus restrictions.
"If Saudi Arabia continues to execute people at the same rate during the second half of 2022, then it will exceed the record of 186 executions in 2019," the ESOHR said.
The group also found breaches of fair trial standards in multiple cases, saying it raises questions about the fairness of the process for death penalty trials in general in the country.
The ESOHR also said it identified the use of torture and revealed how those accused do not have access to a lawyer before court sessions begin, making it harder for them to fight their cases.
Some of those sentenced to death are facing execution for matters related to participation in pro-democracy protests and expression of views, it said.
Saudi Press Agency, a state-run news agency, said on March 12 that authorities had executed 81 people in one day for different offenses.
Of the 81 people, 73 were Saudi citizens, seven were Yemeni and one was a Syrian national.
In January 2016, Saudi authorities executed 47 people, including prominent Shia cleric Sheikh Nimr Baqir al-Nimr, who was a vociferous advocate of democracy in the kingdom and backed anti-regime protests. Nimr had been arrested in Qatif, Eastern Province, in 2012.
Since 2015, Saudi Arabia has reportedly executed more than 900 prisoners, stirring up global outrage. In 2019 alone, authorities in the country admitted to executing 184 people, despite a low number of executions around the world.
Meanwhile, several human rights organizations, including the Human Rights Foundation, the Freedom Initiative, the European Saudi Organization for Human Rights and ALQST for Human Rights, have condemned the ruling against Saudi women's rights defender Salma al-Shehab, and called for her release.
"We call on Saudi authorities to free Salma, allowing her to return to care for her children and to complete her studies safely in the United Kingdom," the Freedom Initiative, a Washington-based human rights organization, said in a statement.
"Tweeting in solidarity with women's rights activists is not a crime," it added.
The United States Commission on International Religious Freedom said, "Shehab's religious identity as a Shia Muslim is believed to have been a factor in her arrest and harsh sentencing."
"Salma was active during campaigns demanding the lifting of the guardianship system over women by their male relatives. She also called for freedom for male and female prisoners of conscience, such as human rights defender Loujain Al-Hathloul and members of the Saudi Civil and Political Rights Association (ACPRA)," ESOHR said in a statement.
Shehab, a Leeds University Ph.D. student, a lecturer at Princess Nourah University, and mother of two young sons, was on holiday in Saudi Arabia in January 2021 and had planned to return to the United Kingdom when she was detained, according to the Freedom Initiative.
She has been sentenced to 34 years in prison for reportedly following and re-tweeting "dissidents and activists" on Twitter. Researchers and activists say her sentence is the longest ever given to a women's rights defender in Saudi Arabia.
Shehab was originally sentenced to six years in prison over tweets in which she advocated for human rights in the kingdom. But, Saudi Arabia's Specialized Criminal Court increased the sentence to 34 years, along with a 34-year travel ban, last week.
Since Mohammed bin Salman became Saudi Arabia's de facto leader in 2017, the kingdom has arrested hundreds of activists, bloggers, intellectuals and others for their political activism, showing almost zero tolerance for dissent even in the face of international condemnation of the crackdown.
Muslim scholars have been executed and women's rights campaigners have been put behind bars and tortured as freedom of expression, association, and belief continue to be denied by the kingdom's authorities.