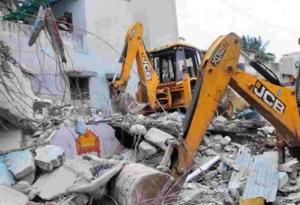 Muslims in India have held massive protest against demolition of mosque by Hyderabad municipality.
Hundreds of Muslims have held anger protest following demolition of Masjid e Khaja Mahmood in Shamsabad in Hyderabad suburbs, reported Taqrib News Agency (TNA).
Leaders of All India Majlis-e- Ittehadul Muslimeen (AIMIM) and Majlis Bachao Tehreek (MBT)  have also voiced anger at the desecrative move by municipality.
A neighboring owner and some local residents have reportedly complained over construction of the mosque.
Local leaders at AIMIM have gathered at mayor's office in Hyderabad demanding punishment of those behind the destruction of the Islamic center.
Nearly 50,000 mosques across India have been torn down, burnt or turned into residential buildings following the crackdown of Muslims.