Books
The Art of Resistance in Islam
By Yafa Shanneik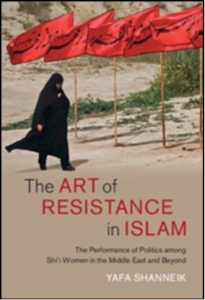 Based on first-hand ethnographic insights into Shi'i religious groups in the Middle East and Europe, this book examines women's resistance to state as well as communal and gender power structures. It offers a new transnational approach to understanding gender agency within contemporary Islamic movements expressed through language, ritual practices, dramatic performances, posters and banners. By looking at the aesthetic performance of the political on the female body through Shi'i ritual practices – an aspect that has previously been ignored in studies on women's acts of resistance -, Yafa Shanneik shows how women play a central role in redefining sectarian and gender power relations both in the Middle East and in the European diaspora.
Reviews
'Shanneik presents a well-researched multi-sited ethnographic study that brings together local and transnational trajectories in the lives of Twelvers Shia women who follow ayatollah al-Shirazi. The study offers an original approach to research on women and resistance by theorizing social agency
through the examination of ritual performance and material culture.'
Ingvild Flaskerud – University of Oslo
'This exceptional study explores a movement among contemporary Shi'a women who have begun to incorporate bodily practices previously reserved for men within Shi'a mourning rituals (e.g. self-flagellation, walking on coals). With great subtlety and insight. Shanneik analyzes these emergent ritual forms as theo-political practice, a response both to growing sectarian (anti-Shi'a) violence and to the patriarchal constraints of Shi'a traditionalism.'
Charles Hirschkind – University of California, Berkeley
'Shanneik beautifully illustrates how ritual performances are a means of empowerment for Shi'i Muslim women and a form of resistance to religious sectarianism. This groundbreaking book erases traditional area studies boundaries by ambitiously connecting the understudied Arab Gulf to the Shi'i diaspora in Europe through artistic expression and political protest.'
Mara Leichtman – Michigan State University
Yafa Shanneik is Lecturer in Islamic Studies at the Department of Theology and Religion, University of Birmingham. Her research focuses on the agency and authority of women in Shi'i and Sunni Muslim communities in the Middle East and their transnational links to Europe. She was awarded three British Academy grants to examine understandings of gender relations and women's resistance to patriarchal gender norms among Syrian and Iraqi refugees in both the Middle East and Europe.
Publisher ‏: ‎Cambridge Univ Press
Hardcover ‏ : ‎ 288 pages £75.00
ISBN-10 ‏ : ‎ 1316516490
Publishing date: January 20, 2022