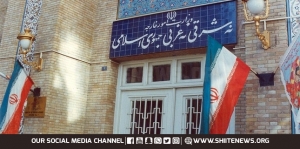 Iran's Foreign Ministry has issued a statement following the Friday terrorist attack on Shia mosque in Kandahar to condemn the heinous crime and stressing necessity of maintaining solidarity among Shia and Sunni Muslims.
Iranian Foreign Ministry warned of plots targeting solidarity of the Shi and Sunni communities and called for boosting integrity in the world of Islam.
It also urged different Islamic denominations to avoid violence and extremism in the name of Islam and also necessity of protecting Shia and Sunni religious centers in Afghanistan.
The terrorist attack on Kandahar Shia mosque has come only a week after the Kunduz terrorist attack claimed by Daesh which has left 300 people dead and injured.
The Friday attack on Bibi Fatima mosque, the biggest Shia mosque in Kandahar, has also left more than 60 worshippers dead and several others wounded.
There has been no immediate claim of responsibility for the multiple bombing attacks which rocked Kandahar mosque.
Iranian Foreign Ministry expressed confidence that the Muslim people in Afghanistan are able to thwart hostile plots through convergence.
This is while the Shia Muslims had held a gathering following Taliban takeover of the country demanding the new authorities to protect the security and social justice for the religious minority group.