Prominent Iranian cleric defined Shia identity as an Islamic identity which should serve the nation of Prophet Mohammad (PBUH) and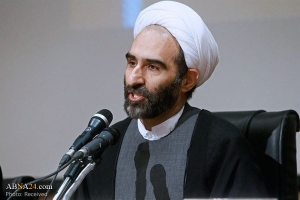 solidarity in the Islamic nation.
Ayatollah Ahmad Moballeghi, member of the Assembly of Experts, in his remarks in a meeting of experts at Shiaology Journal held on Saturday called the Shia community to redefine its identity in the modern world and boost its presence in line with teachings of holy Qur'an and Ahlul Bayt (AS), reported Taqrib News Agency (TNA).
He stressed that Islamic proximity is subsidiary to existence and respect for the different Islamic denominations.
"The Islamic identity is dependent upon Prophet Mohammad (PBUH)" said the cleric and added," if the Islamic nation is demolished or weakened then the Shia identity and any other Islamic identity is doomed to be ruined."
Top cleric warned of repercussions of converting communities to Shia or Sunni, either overtly or covertly, although an overt conversion would lead to sectarian war, waste of assets in the Islamic nation.
According to the cleric the covert conversion of the Islamic nation would translate to hypocrisy in the Islamic nation imposing heavy outcomes on the Muslim nation.