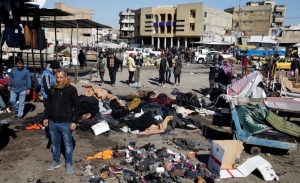 Islamic State claimed responsibility for an attack in a crowded Baghdad market on Thursday, killing at least 32 people in Iraq's first big suicide bombing for three years, authorities said, describing it as a possible sign of the reactivation of Islamic State.
Islamic State claimed early on Friday that two of its men blew themselves up in Tayaran Square in the centre of Baghdad, according to a statement posted on the group's Telegram communications channel.
Reuters journalists arriving after the blasts saw pools of blood and discarded shoes at the site, a clothing market in Tayaran Square in the centre of the city. Health authorities said at least 110 people had been wounded.
"One (bomber) came, fell to the ground and started complaining 'my stomach is hurting' and he pressed the detonator in his hand. It exploded immediately. People were torn to pieces," said a street vendor who did not give his name.
Suicide attacks, once an almost daily occurrence in the Iraqi capital, have halted in recent years since Islamic State fighters were defeated in 2017, part of an overall improvement in security that has brought normal life back to Baghdad.
"Daesh terrorist groups might be standing behind the attacks," Civil Defence chief Major General Kadhim Salman told reporters, using an Arabic acronym for Islamic State.
A video taken from a rooftop and circulated on social media purported to show the second blast scattering people gathered in the area. Images shared online, which Reuters could not independently verify, showed several dead and wounded.
Thursday's attack took place in the same market that was struck in the last big attack, in January, 2018, when at least 27 people were killed.
Prime Minister Mustafa al-Kadhimi held an urgent meeting with top security commanders to discuss Thursday's attacks, the premier's office said in a brief statement. Iraqi security forces were deployed and key roads blocked to prevent possible further attacks.
Following the urgent meeting, Kadhimi sacked key security and police commanders, deputy interior minister for intelligence affairs, director of counter terrorism and intelligence in the interior
close down major Bitcoin farms operating legally seems designed to deflect concerns about the country's repeated blackouts.
As Tehran went dark last week, a video showing industrial computers whirring away at a massive Chinese cryptocurrency farm spread online like wildfire, prompting outrage about Bitcoin's outsized thirst for electricity. Within days, the government closed that plant despite its authorization to operate.
"The priority is with households, commercial, hospitals and sensitive places," said Mostfa Rajabi Mashhadi, spokesman of Iran's electricity supply department, noting that illegal farms sucked up daily some 260 megawatts of electricity.
Although Bitcoin mining strains the power grid, experts say it's not the real reason behind Iran's electricity outages and dangerous air pollution. The telecommunications ministry estimates that Bitcoin consumes less than 2% of Iran's total energy production.
"Bitcoin was an easy victim here," said Kaveh Madani, a former deputy head of Iran's Department of Environment, adding that "decades of mismanagement" have left a growing gap between Iran's energy supply and demand.
Bitcoin "mining's energy footprint is not insignificant but these problems are not created overnight," he said. "They simply need one trigger to spiral out of control."
A sharp drop in supply or spike in demand, like this winter when more people are staying home because of the coronavirus pandemic, can upset the balance of a grid that draws mostly from natural gas. Authorities reported that households have increased their heating gas usage by 8% this year, which Tehran's electric supply company said led to "limitations in feeding the country's power plants and a lack of electricity."
Sanctions targeting Iran's aging oil and gas industry have compounded the challenges, leaving Iran unable to sell its products abroad, including its low-quality, high-sulfur fuel oil known as mazut. If the hazardous oil isn't sold or shipped it must be swiftly burned — and it is, in 20% of the country's power plants, according to environmental official Mohammad Mehdi Mirzai. The smoldering fuel blackens the skies, particularly when the weather cools and wind carries emissions from nearby refineries and industrial sites into Tehran.
During the power blackouts, thick layers of pollution coated mountain peaks and hovered over cities, with readings of dangerous fine particulate pollution spiking to over 200 micrograms per cubic meter, a level considered "dangerously" unhealthy.
As the government publicized its clampdown on Bitcoin farms, miners balked at all the blame over their energy guzzling. Many warned that despite its potential to become a cryptocurrency utopia, Iran would continue to fall behind.
"These moves harm the country," said Omid Alavi, a cryptocurrency consultant. "Many neighboring nations are attracting foreign investors."