A History of Palestinian Islamic Jihad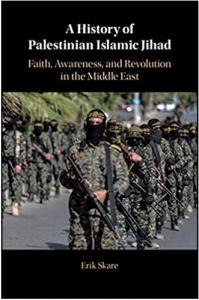 Faith, Awareness, and Revolution in the Middle East
By  Erik Skare
Palestinian Islamic Jihad (PIJ) is one of the most important yet least understood Palestinian armed factions, both in terms of its history and ideology. Labelled a terrorist organization by the US and the EU, it has grown to become the second largest armed movement in the Gaza Strip and the third largest in the Occupied Palestinian Territories. Using a wealth of primary sources, this book traces the history of PIJ from its origins in the early 1980s to today. By looking at how the group was established, how it has developed in theory and practice, and how it understands religion and politics, Skare seeks to answer the key question of why the PIJ still exist despite the presence of its more powerful sister movement Hamas. In doing so, he fills an important empirical gap in the literature on Palestinian Islamism.
Reviews & endorsements
'This will become the authoritative work on the Palestinian Islamic Jihad Movement for years to come. Based on massive primary sources, Skare has produced a meticulous historiography of the Movement combined with intellectual inquiry and political analysis, all situated within the broader context of the Zionist colonial occupation of Palestine.' Khaled Al Hroub, Northwestern University
'The most comprehensive work on Palestinian Islamic Jihad to date, delving deeply into the movement's textual underpinnings and other outputs largely ignored by previous scholarship. As such, it is an important contribution to the literature on the Palestine/Israel conflict examining this key but grossly understudied actor.' Tristan Dunning, The University of Queensland
'This study fills a significant gap in the scholarship on the history and socio-political makeup of the Palestinian Islamic Jihad (PIJ), as compared to Hamas. The work locates the PIJ in the context of anticolonial struggle, inspired by secular-nationalist currents in the 1960s, and hence intertwining religious symbolism and secular politics when advocating armed conflict with Israel. It will be of great interest to social scientists and historians working on de-colonization, Middle Eastern Islamism and Palestinian politics.' Meir Hatina, Hebrew University of Jerusalem
'An impressive book that skilfully traces the historical development, political thinking and ideology of this poorly understood but critical Palestinian actor. An original and authoritative work, it constitutes a significant contribution to the scholarship on the Israeli-Palestinian conflict and is destined to become a standard text in the field.' Sara Roy, Harvard University
Erik Skare, Center for International Studies, Sciences Po
Erik Skare is Postdoctoral Researcher at Center for International Studies, Sciences Po (Paris). He is the author of Digital Jihad: Palestinian Resistance in the Digital Era (2016) and Palestinian Islamic Jihad: Islamist Writings on Resistance and Religion (forthcoming).
Publisher: Cambridge University Press
Hardback £75.00
ISBN: 9781108845069
Date published: January 2021