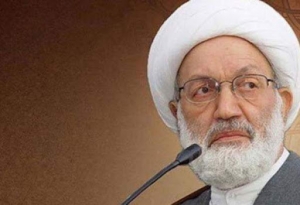 Bahraini top Shia leader has issued a message on Tuesday to warn against threats and repercussions of normalization with Israel and stressed humiliation of the states joining the deal is already known to Muslim nations.
Sheikh Issa Qassem in his message warned of the repercussions of normalization with Israel which was clear from the scratch stressing Bahraini nation's abhorrence for the deal Manama signed with Tel Aviv regime, reported Taqrib News Agency (TNA).
He said," Following Bahrain's joining the normalization deal with Israel, Bahraini nation called the measure a treachery against Palestinian nation."
The cleric noted that regimes which have joined the normalization deal with Israel have in fact distanced from their nations and believed that their honor is dependent upon the US and Israeli will.
The ceremony for signing the normalization deal between Tel Aviv and Manama and the United Arab Emirates was held in the White House on September 15 where the US President Donald Trump, Israeli side and representatives of the two Arab states officially signed the deal to reveal years of secret ties between them.