Mateo Mohammad Farzaneh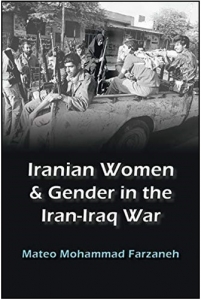 Eighteen months after Iran's Islamic Revolution in 1979, hundreds of thousands of the country's women participated in the Iran-Iraq War (1980–88) in a variety of capacities. Iran was divided into women of conservative religious backgrounds who supported the revolution and accepted some of the theocratic regime's depictions of gender roles, and liberal women more active in civil society before the revolution who challenged the state's male-dominated gender bias. However, both groups were integral to the war effort, serving as journalists, paramedics, combatants, intelligence officers, medical instructors, and propagandists. Behind the frontlines, women were drivers, surgeons, fundraisers, and community organizers. The war provided women of all social classes the opportunity to assert their role in society, and in doing so, they refused to be marginalized.
Despite their significant contributions, women are largely absent from studies on the war. Drawing upon primary sources such as memoirs, wills, interviews, print media coverage, and oral histories, Farzaneh chronicles in copious detail women's participation on the battlefield, in the household, and everywhere in between.
"A pioneering work. We here in the US hear extremely little about the Iran-Iraq war and what was going on on the ground in Iran during those eight horrible, long years."—Mary Hegland, author of Days of Revolution: Political Unrest in an Iranian Village
"This is a scrupulously researched book on an important subject. By making women and gender its central concern, it offers an original and necessary new perspective on the Iran-Iraq war."—Stephanie Cronin, University of Oxford
"An original and groundbreaking investigation of the many ways Iranian women were vital and central actors in, and unfortunate victims of, the Iran-Iraq War."—Jasamin Rostam-Kolayi, California State University, Fullerton
"Farzaneh has given us an engrossing study of the role of Iranian women in the Iran-Iraq war–active role not only in the home front but also at the actual war front. This is a fascinating look into the popular culture of revolutionary Iran."—Ervand Abrahamian, Baruch College, City University of New York
Mateo Mohammad Farzaneh is associate professor of history at Northeastern Illinois University. He is the author of The Iranian Constitutional Revolution and the Clerical Leadership of Khurasani.
Publisher: Syracuse University Press
Hardcover 400 pages $90.00
ISBN: 9780815637028
Date published: December 2020