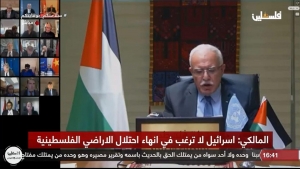 Speaking at the open debate of the United Nations Security Council to discuss President Mahmoud Abbas' call on the UN Secretary General to convene an international peace conference to resolve the Palestinian-Israeli conflict, Foreign Minister Riyad Malki said that this call is the ultimate demonstration of Palestinian commitment to peace.
"This call is the ultimate demonstration of our commitment to peace and to a path based on inclusion, not exclusion, legality not illegality, negotiations not diktats, multilateralism not unilateralism," he said at the session held virtually on Monday.
"The international peace conference can generate the necessary momentum and mobilize the international community at large to help the parties negotiate a peace agreement that will forever change our region. Anything else is volatile, and it is futile," said Malki.