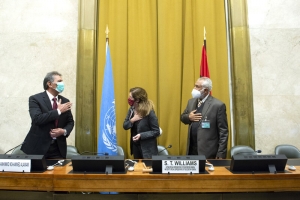 Acting Special Representative of the Secretary General and Head of the United Nations Support Mission in Libya (UNSMIL) Stephanie Williams announced the launch of the Libyan Political Dialogue Forum (LPDF), which will convene its first virtual meeting on Monday, 26 October.
The direct, in-person meeting of the LPDF will kick off on 9 November 2020 in the Tunisian capital.
The resumption of the LPDF comes at a time of an overwhelming sense of hope that emerged in Libya after the signing of a permanent, countrywide ceasefire agreement between Libyan parties, on 23 October in Geneva. Consultative meetings UNSMIL conducted with various Libyan constituencies in past months have paved the way for the resumption of the Libyan Political Dialogue Forum.
As the United Nations marks its 75th anniversary of the entry into force of its founding Charter, UNSMIL will welcome 75 Libyan participants to the first virtual meeting of the inclusive LPDF on Monday.
During Monday's online consultation meeting, participants in the LPDF, drawn from different Libyan constituencies, will be briefed on the intra-Libyan economic and military tracks facilitated by UNSMIL as well as run human rights and international humanitarian law track. They will also hear the recommendations that emerged from the consultative meetings with mayors and representatives of women and youth groups.
The LPDF is a fully inclusive intra-Libyan political dialogue established by the Berlin Conference Outcomes, which were endorsed by UN Security Council resolutions 2510 (2020) and 2542 (2020).