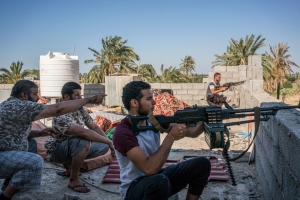 Political talks between the two sides, which are made up of sometimes unstable coalitions of local interests, are due in Tunisia early next month.
However, many previous diplomatic efforts to resolve Libya's internal conflict have run aground on the messy reality of a contest among many different groups since the 2011 ousting of Muammar Gaddafi.
"It's a good continuation of the mood of progress, optimism and settlement," said Tarek Megerisi, a policy fellow with the North Africa and Middle East programme at the European Council on Foreign Relations.
"But there is still no clear sign that Libyan belligerents are looking at this as anything other than a period of posturing and positioning to ensure they can dominate the next round of Libya's transitional politics," he added.
Both sides have been backed with weapons and fighters by outside powers as the Libyan conflict has drawn in countries propelled by their own regional interests.
The GNA is supported by Turkey, while the United Arab Emirates, Russia and Egypt back the LNA. The United Nations has urged all foreign parties to stop interfering in Libya and criticised their breach of an arms embargo.