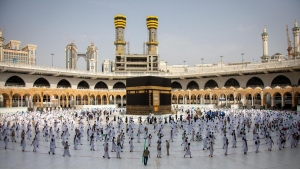 Saudi Arabia has announced admitting pilgrims for Umrah (minor Hajj) will gradually resume from October 4 following the restrictions imposed due to the new coronavirus pandemic.
Following cancelation of the Umrah pilgrimage due to the COVID-19 pandemic since March, Saudi Arabia has announced that 6'000 pilgrims residing in the country will be able to perform minor Hajj from early October, reported Taqrib News Agency (TNA).
The statement by Saudi Arabia's Ministry of Hajj and Umrah has also announced that pilgrims from other countries will be able to perform Umrah from first of November.
The statement added that the number of pilgrims allowed to carry out Umrah will increase to 20,000 per day as of November.
Saudi Ministry of Hajj and Umrah announced that the pilgrims will be admitted in four gradual stages with the last stage when the Grand Mosque will be able to admit the pilgrims, worshippers and visitors at its full capacity as all the coronavirus risks have gone.
Serious restrictions have been imposed on the number of Hajj pilgrims since the outbreak of the coronavirus in December 2019.
Saudi Arabia has held very limited Hajj pilgrimage this year with only 10,000 pilgrims residing in the country admitted to perform Hajj 2020 which began in July.