Pilgrims made their way on Saturday, the second day of Eid Al-Adha – the first of Tashreeq days –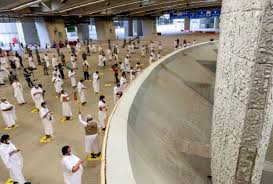 to the Jamarat facility in Mina to perform the ritual of the symbolic stoning of the devil.
They throw pebbles, which are small stones, at each of the three pillars in Mina, starting with the Smaller, then the Middle and finally Jamarat Al-Aqaba, amid a system of health and preventive measures and integrated services.
Pilgrims spend the three days of Tashreeq in Mina site, blessed with the care of Allah Almighty, then with the integrated services provided by the government of Custodian of the Two Holy Mosques King Salman and Crown Prince Mohammed bin Salman, to enable them to perform their Hajj rituals in tranquility, safety and comfort.