Iran's Supreme Leader, Ayatollah Ali Khamenei, accused the United States on Friday of trying to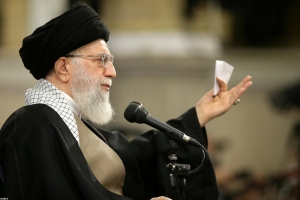 stir anti-government protests by imposing sanctions that he said are aimed at bankrupting the country.
Iran's clerical rulers have tried to prevent a revival of anti-government unrest that have shaken the country in recent years and that began with protests over economic hardship but turned political, with demonstrators demanding top officials step down. Authorities have said street protests will be dealt with "decisively".
"Their (The U.S.) short-term goal was to make our people so fed up and tired that they would stand up against the (ruling) system," Khamenei said in a televised speech marking the Muslim religious holiday of Eid al-Adha.
"Their long-term aim is to bankrupt the country, the state, in other words to make the economy collapse."
In addition to the U.S. sanctions, Iran's economy has been hit by a fall in oil prices, as well as the coronavirus crisis: Iran has one of the highest death tolls in the Middle East from the pandemic.
Relations between Tehran and Washington have deteriorated since 2018 when U.S. President Donald Trump abandoned Iran's 2015 nuclear deal with six powers under which Tehran agreed to curtail its nuclear program in return for the lifting of most international sanctions.
Khamenei called the United States Iran's "main enemy" and urged Iranians to resist U.S. pressure. He ruled out negotiations with Washington saying Trump would use talks for propaganda as he did with North Korean leader Kim Jong Un.
"At the negotiating table, America wants us to abandon our nuclear industry altogether, reduce our defence capabilities and relinquish our regional influence," he said.
Since pulling out of the nuclear deal, Washington has reimposed sanctions that have sharply lowered Tehran's oil exports. It is pursuing a "maximum pressure" policy aimed at forcing Tehran to negotiate a broader deal that further limits its nuclear work, ends its missile program and its support for proxy forces in a regional power struggle with U.S.-backed Gulf Arabs.
Pompeo  says U.S. has expanded scope of Iran metals sanctions
U.S. Secretary of State Mike Pompeo on Thursday said he was expanding the scope of Iran metals sanctions, targeting 22 specific materials that he said were used in connection with Iran's nuclear, military or ballistic missile programs.
U.S. Secretary of State Mike Pompeo testifies during a Senate Foreign Relations Committee hearing on the State Department's 2021 budget, in the Dirksen Senate Office Building, in Washington, D.C., U.S., July 30, 2020. Greg Nash/Pool via REUTERS
Pompeo in a statement called it a "major expansion" of the Iran metals-related sanctions administered by the State Department, allowing Washington to blacklist those who knowingly transfer the materials to Iran.
"Iran's nuclear, ballistic missile, and military programs pose a grave threat to international peace and security," Pompeo said in the statement.
Pompeo also said he was firm in his determination that Iran's elite security force, the Islamic Revolutionary Guard Corps (IRGC), controls Iran's construction sector.
As a result, sanctions may still be imposed on those who knowingly transfer certain materials, including graphite or raw or semi-finished metals, to or from Iran to be used in connection with the Islamic Republic's construction sector, Pompeo said.
The materials he said he had determined are used in connection with Iran's nuclear, military or ballistic missile programs included aluminum powder with purity above 98%.
Reuters reported in June that Iran Alumina Company's aluminum complex near the city of Jajarm is also home to a secret facility, set up by the IRGC, that has produced powder for use in Iran's missile program.
Aluminum powder is a key ingredient in solid-fuel propellants used to launch missiles.
The United States has previously targeted Iran's metals sector with sanctions in an effort to slash Iranian revenues.
Tensions between Washington and Tehran have spiked since Trump unilaterally withdrew in 2018 from the Iran nuclear deal struck by his predecessor, Barack Obama, and began reimposing sanctions that had been eased under the accord.
Iran says it has detained U.S.-based opposition leader over 2008 bomb attack
Iran said on Saturday its intelligence services have detained a U.S.-based leader of a pro-monarchist group whom it accused of being behind a deadly 2008 bombing and of plotting other attacks, and that he is being held in Iran.
An intelligence ministry statement cited by state television did not say how, where or when the detention took place.
"Jamshid Sharmahd, the ringleader of the terrorist Tondar (Thunder) group, who directed armed and terrorist acts in Iran from America, was arrested following a complicated operation, and is now in (our agents') powerful hands," it said.
Television showed a video of a man identifying himself as Sharmahd and giving his date of birth. The man was later shown with a blindfold, saying: "They needed explosives and we provided it."
Tondar did not confirm the detention. In reaction to what it said were reports of Sharmahd's "abduction", the group said on its website it did not confirm "stories being told by various networks".
However it said in an earlier posting on social media that "Tondar .. will continue to fight even in the absence of a commander".
The U.S. State Department did not immediately respond to a request for comment.
Based in Los Angeles, the little-known Kingdom Assembly of Iran, or Tondar, says it seeks to restore the Iranian monarchy that was overthrown by the 1979 Islamic revolution. It runs pro-Iranian opposition radio and television stations abroad.
According to the group's website, Sharmahd is an electronics engineer born in 1955. The website said he is Iranian-German and lived in Germany before moving to Los Angeles in 2003.
No comment was immediately available from the German foreign ministry.
The Iranian ministry statement said Sharmahd planned and directed an explosion at a religious center in the southern city of Shiraz in 2008 that killed 14 people and wounded 215.
It said Iranian intelligence aborted several other plots in more recent years, including blowing up the shrine of Ayatollah Ruhollah Khomeini, the late founder of the Islamic Republic. It did not say when the alleged plot was aborted.
'VIOLENCE-PRONE' GROUP
Intelligence minister Mahmoud Alavi called Tondar the "most violence-prone" royalist opposition group. "Despite our complaint to Interpol, Sharmahd would travel everywhere under his own name. This shows how empty anti-terror slogans by Americans and their Europeans allies are," he told state TV.
In 2019, Iran detained Ruhollah Zam, a Paris-based journalist-turned-activist, after apparently luring him to neighbouring Iraq, according to Iranian media reports at the time. Zam was sentenced to death on
security charges in June.
Sharmahd's detention came at a time of particularly tense relations between longtime foes Washington and Tehran.
The Iranian foreign ministry said in a statement Washington should be held accountable for backing "this terrorist group and other groups and criminals responsible for sabotage, armed and terrorist operations" from within the United States.
Tondar has claimed responsibility for some attacks, saying on its website it was behind the bombing of a seminary used by Revolutionary Guards in Shiraz in June 2019, and an explosion in a refinery in 2016.
In 2009, Iran executed three men convicted of involvement in the 2008 bombing.