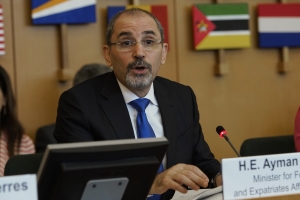 "Jordan is firmly opposed to Israel's actions, including the planned annexation of lands in the occupied West Bank and the Jordan Valley, a position in line with the international legitimacy resolutions," said Jordanian Prime Minister, Omar Razzaz on Tuesday.
He reiterated that the two-state solution and the setting up of an independent Palestinian state with East Jerusalem as its capital is the only solution and avenue to peace in the region.
Razzaz said in remarks to Arab and international media outlets at the Prime Ministry that "any other talk than the two-state solution will never lead to a comprehensive peace," adding that Israel's unilateral actions will literally lead to an apartheid state, as annexation "sets the ground for the logic of the law of the jungle" and is an affront to global security. He said Jordan does not stand alone in this matter.
The premier also said: "I challenge any Israeli official to come up with a better alternative than the two-state solution and to tell us what he is he talking about. Is he talking about one democratic state? or an apartheid state that will bring instability, not only to the region but to the whole world, as the state of apartheid in South Africa".
Turning to the economy, the prime stressed that Jordan's health stability was reflected in all fields, and had helped to bring investment to the Kingdom, noting that the government's "successful" recent investment in the Eurobonds indicates political, health, economic and social stability that helps to bring in foreign capital.
On the protection of public money, Razzaz noted that the government had in 2018 and 2019 amended legislation related to protecting public funds and fighting corruption, stating that these measures have increased revenues from a crackdown on tax evasion in the state of law and institutions.