The aircraft carrying the skulls of Algerian resistance fighters against French invasion and occupation, held for more than a century and a half at au the Natural History Museum of Paris, landed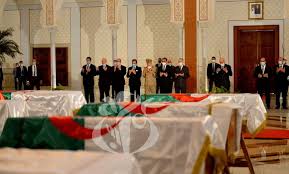 on Friday in Houari Boumedienne international airport of Algiers.
The military aircraft C-130 carrying, from France, the remains of the 24 Algerian resistance fighters against the French colonization, escorted by fighter planes, landed in the early afternoon at the Houari Boumediene Airport.
Algerian President Abdelmadjid Tebboune chaired the ceremony welcoming the coffins, in the presence of senior State officials, including Acting Speaker of the Council of the Nation (upper house of parliament) Salah Goudjil, and Speaker of the People's National Assembly Slimane Chenine.
The ceremony was also attended by Prime Minister Abdelaziz Djerad; Chief of Staff of the People's National Army Lt. Gen. Saïd Chanegriha; and Commander of the Republican Guard Gen. Ali Ben Ali; as well as members of the government.
In a ceremony marking Algeria's Independence Day on Thursday, President Tebboune said the reception of the 24 skulls is a first step in the repatriation of the mortal remains of Algerian resistance fighters. He stressed the State's determination to continue the operation until the repatriation of all the Algerian resistance fighters, to be buried in the country for which they had sacrificed their lives.
Algeria had made an official request, to France, for the return of the skulls of many Algerian resistance fighters that can be found at the Museum of Natural History in Paris. The issue was discussed between the highest authorities of the two countries and a technical committee composed of Algerian experts was created for the identification of the skulls of the Algerian resistance fighters.
The funeral of the remains of the martyrs is scheduled to take place Sunday in the Martyrs' Square of El-Alia Cemetery east of the capital Algiers.