Palestinian President Mahmoud Abbas on Sunday told German Chancellor Angela Merkel that he is ready to go to negotiations with Israel on the basis of UN resolutions and under the auspices of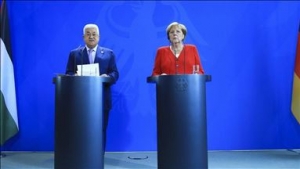 the international Quartet.
The two leaders discussed in a telephone call the latest political developments in the region, particularly Israeli plans to annex occupied Palestinian territory, which is strongly opposed by all countries.
President Abbas congratulated Merkel on the assumption of her country the presidency of the European Union and the UN Security Council, expressing hope that this would contribute to achieving stability and support for international law and international legality.
He thanked Germany for supporting international law and UN resolutions, especially with regard to the annexation of occupied territories by force.
Merkel, on her part, affirmed Germany's support for peace on the basis of the two-state solution and adherence to international law. She stressed the importance of Palestine and Israel sitting at the negotiating table, stressing the importance of achieving peace in the region and its significant impact on world stability.
Abbas also briefed Merkel on the Palestinian efforts to confront the second wave of the coronavirus pandemic, while applauding Germany's efforts and success in controlling the pandemic.
The German Chancellor said her country is ready to provide assistance to help the Palestinians deal with the COVID-19 crisis.
Israeli warplanes strike sites in Gaza
Israeli warplanes on Sunday evening stroke two sites to the southeast of the city of Gaza, according to WAFA correspondent.
He confirmed that Israeli fighter jets fired at least five rockets at a site and agricultural land to the east of al-Zaytoon neighborhood, setting on it fire and causing property damages.
The correspondent added that the Israeli artillery fired two shells at another plot of agricultural land to the northeast of the al-Shejaiya neighborhood. No human casualties were reported, however.
Israel claimed the round of airstrikes in the war-battered strip came in retaliation to rocket fire from the enclave.
Fourteen years following the Israeli "disengagement" from Gaza, Israel has not actually disengaged from the enclave; it still maintains control of its land borders, access to the sea and airspace.
Two million Palestinians live the Gaza Strip, which has been subjected to a punishing and crippling Israeli blockade for 12 years and repeated onslaughts that have heavily damaged much of the enclave's infrastructure.
Gaza's 2-million population remains under "remote control" occupation and a strict siege, which has destroyed the local economy, strangled Palestinian livelihoods, plunged them into unprecedented rates of unemployment and poverty, and cut off from the rest of the occupied Palestinian territories and the wider world.
Gaza remains occupied territory, having no control over its borders, territorial waters or airspace. Meanwhile, Israel upholds very few of its responsibilities as the occupying power, failing to provide for the basic needs of Palestinian civilians living in the territory.
Every two in three Palestinians in Gaza are refugees from lands inside what is now Israel, where the government forbids them from exercising their right to return as enshrined in international law because they are not Jews.
Israel feels exposed as U.S. drops satellite-imaging cap
An Israeli official flagged a possible security risk on Monday following a U.S. move to allow American providers to sell clearer satellite images of Israel and the Palestinian territories.
Under a 1997 U.S. regulation known as the Kyl-Bingaman Amendment, satellite images of Israel and the Palestinian territories used in services like Google Earth could show items no smaller than 2 metres (6.56 ft) across.
The curb, Israel had argued, would help prevent enemies using public-domain information to spy on its sensitive sites.
But the U.S. Commercial Remote Sensing Regulatory Affairs Office said on June 25 it would allow enhanced resolutions of 0.4 metre. In a statement to Reuters, the agency said "a number of foreign sources" are already producing and disseminating sub-2 m. imagery of Israel.
Amnon Harari, head of space programmes at Israel's Defence Ministry, said he believed the move was designed to ease international competition for U.S. commercial satellites, adding: "I don't think they (Americans) asked us" in advance.
"We are in a process of studying what exactly is written there, what exactly the intentions are, what we can respond to, ultimately," Harari told Israel's public radio station Kan.
"We would always prefer to be photographed at the lowest resolution possible. It's always preferable to be seen blurred, rather than precisely."
Israel worries that Lebanon's Hezbollah and Gaza's Hamas militants could use commercial satellite images to plan rocket strikes on key civilian and military infrastructure.
Higher resolution images could also potentially help track the expansion of Jewish settlements in the occupied West Bank which opponents see as obstructing Palestinian statehood hopes.
Hagit Ofran of Peace Now, an Israeli anti-settlement monitor, welcomed the prospect of sharper images. With lower quality photos, she said, "it is difficult to know if what you are seeing is a new house or just a chicken coop".
Google Earth referred Reuters to third-party providers when asked if the U.S. move would affect the satellite images it publishes of Israel and the Palestinian territories.
One such U.S. company, Planet, said in a statement: "When the policy change goes into effect, we will follow the new provisions for providing high resolution imagery of the region."