Supreme Leader of the Islamic Revolution in Iran Ayatollah Seyyed Ali Khamenei wrote in response to the letter of the chairman of the Hamas Political Bureau, Ismail Haniyeh, that the Islamic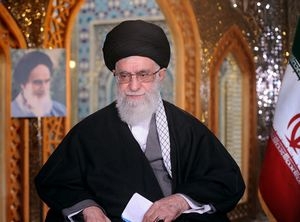 Republic of Iran spares no efforts to support the oppressed people of Palestine and restore their rights.
In his letter, Ayatollah Khamenei thanked God that the Palestinian resistance has been successful to thwart the US-Zionist plots and has weakened them and brought honor to the Islamic Ummah.
Thanking Haniyeh for his efforts, Ayatollah Khamenei said the desperate enemy has been heavily defeated and has decided to continue their expansionist goals through economic pressure and laying siege to Gaza Strip and the trick of negotiation and peace plan, but the Resistance and the people of Palestine will not yield to their threats and extortion as before, and they will tread the path of honor and pride.
The Supreme Leader said that exercising vigilance and unity will bring victory to the Palestinian liberation movement from the Israeli occupation and will thwart the ominous plots of the enemy.
Hoping God will give the Palestinians more power and honor, Ayatollah Khamenei said that Iran will as before will continue with its religious and humane duty and will spare no efforts to restore the rights of the Palestinians and remove the wicked effects of the Israeli occupying regime.
Fire at Iran's Natanz nuclear facility caused significant damage – spokesman
A fire at Iran's underground Natanz nuclear facility has caused significant damage that could slow the development of advanced centrifuges used to enrich uranium, an Iranian nuclear official said on Sunday.
Iran's top security body said on Friday that the cause of the fire that broke out on Thursday had been determined but would be announced later. Some Iranian officials have said it may have been cyber sabotage and one warned that Tehran would retaliate against any country carrying out such attacks.
On Thursday, an article by Iran's state news agency IRNA addressed what it called the possibility of sabotage by enemies such as Israel and the United States, although it stopped short of accusing either directly.
Israel's defence minister said on Sunday it was not "necessarily" behind every mysterious incident in Iran.
Three Iranian officials who spoke to Reuters on condition of anonymity on Friday said they believed the fire was the result of a cyber attack but did not cite any evidence.
"The incident could slow down the development and production of advanced centrifuges in the medium term … Iran will replace the damaged building with a bigger one that has more advanced equipment," state news agency IRNA quoted the spokesman for Iran's Atomic Energy Organisation, Behrouz Kamalvandi, as saying.
"The incident has caused significant damage but there were no casualties."
Separately on Sunday, Iran's powerful Revolutionary Guards Navy chief said Tehran had built underground "missile cities" along the Gulf coastline and warned of a "nightmare for Iran's enemies".
Iranian authorities have said such sites exist in all provinces of Iran but have unveiled only three bases so far and not disclosed that they have been built along its coast.
Natanz is the centrepiece of Iran's enrichment programme, which Tehran says is for peaceful purposes. Western intelligence agencies and the U.N.'s nuclear watchdog (IAEA) believe it had a coordinated, clandestine nuclear arms programme that it halted in 2003. Tehran denies ever seeking nuclear weapons.
Iran agreed to curb its nuclear programme in exchange for the removal of most international sanctions in a deal reached between Tehran and six world powers in 2015.
But Iran has gradually reduced its commitments to the accord since U.S. President Donald Trump's administration withdrew from the deal in 2018 and reimposed and intensified sanctions that have battered Iran's economy.
The deal only allows Iran to enrich uranium at its Natanz facility with just over 5,000 first-generation IR-1 centrifuges, but Iran has installed new cascades of advanced centrifuges.
Iran, which says it will not negotiate as long as sanctions remain in place, has repeatedly vowed to continue building up what it calls a defensive missile capability run by the Revolutionary Guards, in defiance of Western criticism.
Israel has backed Trump's "maximum pressure" policy on Tehran aimed at forcing it to agree a new deal that puts stricter limits on its nuclear work, curbs its ballistic missile programme and ends its regional proxy wars.
In 2010, the Stuxnet computer virus, widely believed to have been developed by the United States and Israel, was discovered after it was used to attack Natanz.
The Natanz Fuel Enrichment Plant (FEP), Iran's main uranium enrichment site which is mostly underground, is one of several Iranian facilities monitored by inspectors of the International Atomic Energy Agency (IAEA), the U.N. nuclear watchdog.
The IAEA said on Friday that the location of the fire did not contain nuclear materials and that none of its inspectors was present at the time.
Russia opposes against triggering 'Dispute Resolution Mechanism'
Russian Ambassador and Permanent Representative to the International Organizations in Vienna Mikhail Ulyanov in a message said triggering 'Dispute Resolution Mechanism' with regard to Iran nuclear deal known as the Joint Comprehensive Plan of Action (JCPOA).
"#E3 and #Iran try to launch from different perspectives Dispute Resolution Mechanism. Not a good idea," Ulyanov wrote on his Twitter account on Monday.
"Instead of fruitless and potentially damaging disputes of this kind all #JCPOA participants need to think together how to preserve the nuclear deal which is in very bad shape," he added.
High Representative of the European Union Josep Borrell announced on Friday (July 3) that he has received a letter from Iranian Foreign Minister Mohammad Javad Zarif regarding Tehran's concerns over issues related to the implementation of the international nuclear deal, aka Joint Comprehensive Plan of Action (JCPOA), through dispute resolution mechanism (DRM).
"As I have said previously, the Dispute Resolution Mechanism requires intensive efforts in good faith by all. As Coordinator of the Joint Commission, I expect all JCPOA participants to approach this process in this spirit within the framework of the JCPOA," Borrell said in a statement on Friday.
Via his statement, Borrell also recalled "the importance of the agreement".
Foreign Minister Mohammad Javad Zarif in a letter to the High Representative of the European Union Josep Borrell once again referred the cases of European countries' non-compliance to the Joint Commission for settlement in accordance with Article 36 of the JCPOA.
Foreign Minister's letter warned that any interference in the ongoing cooperation between Iran and the IAEA would be contrary to the provisions of the JCPOA and could have negative impacts on the existing cooperation under the safeguards agreement, Foreign Ministry Spokesman Abbas Mousavi earlier said.
Foreign Ministry spokesman stressed the need to maintain and fully implement the provisions of the JCPOA by all parties, especially the need for Iran to fully benefit from the economic effects of the sanctions lifting system as envisaged in the deal, saying that Iran will take appropriate and proportionate action against any excessive and irresponsible behavior.