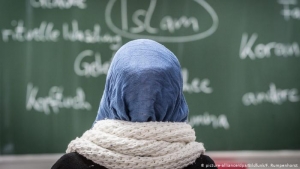 A European anti-racism commission has detected "high levels of Islamophobia" and said that public discourse in Germany is increasingly xenophobic. "Blatant" racism from certain quarters has impacted mainstream politics.
Germany must step up efforts to prevent and counter-extremism and neo-Nazism, the Council of Europe's European Commission against Racism and Intolerance (ECRI) said in a report published recently.
The report also stated there is strong evidence for extensive racial profiling by German police. The ECRI recommended Germany should take action to:
Ensure that evidence of online hate speech is shared with the police;
Eliminate existing and prevent future racial profiling;
Establish a system of organizations that provide victims of discrimination with effective support;
Accelerate the National Action Plan on Integration, as children with migrant backgrounds are twice as likely to leave school without qualifications.
The report commended Germany's efforts to fight racism and discrimination, noting that "Germany warmly welcomed an extraordinarily large number of asylum seekers in 2015" and "invested many resources" in their inclusive integration.
However, the report said public discourse in the country has become increasingly xenophobic, noting "high levels of Islamophobia."
According to the ECRI, racism is "particularly blatant" in two sub-organizations of a "new political party." The report found that the constant racist and xenophobic discourse from the extreme right has impacted mainstream political discourse.
German Sinti and Roma are in need of special assistance with migrant Roma often being victims of exclusion and exploitation.
The survey found a large number of unreported hate crimes and said evidence of online hate speech that could lead to violence is "not systematically transmitted to the police."
The report praised German officials including Chancellor Angela Merkel for having publicly spoken out against hate speech but urged social networks to enforce their guidelines on omitting hate speech.