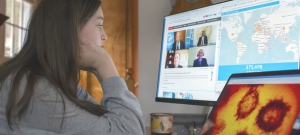 The United Nations has launched a $2 billion coordinated global humanitarian response plan to fight COVID-19 in some of the world's most vulnerable countries, urging governments to commit to fully supporting the plan while sustaining funding to existing humanitarian appeals.
The response plan was launched by UN Secretary-General António Guterres on Wednesday to combat COVID-19 in 51 countries across South America, Africa, the Middle East and Asia, warning that failing to help vulnerable countries fight the coronavirus now could place millions at risk and leave the virus-free to circle back around the globe.
He noted that the plan – to be implemented by UN agencies, with international NGOs and NGO consortia playing a direct role in the response – will deliver essential laboratory equipment to test for the virus, and medical supplies to treat people; install handwashing stations in camps and settlements; launch public information campaigns on how to protect yourself and others from the virus; and establish airbridges and hubs across Africa, Asia and Latin America to move humanitarian workers and supplies to where they are needed most.
"COVID-19 is menacing the whole of humanity – and so the whole of humanity must fight back. Individual country responses are not going to be enough," the UN chief said.
"We must come to the aid of the ultra-vulnerable – millions upon millions of people who are least able to protect themselves.  This is a matter of basic human solidarity. It is also crucial for combating the virus. This is the moment to step up for the vulnerable," he added.