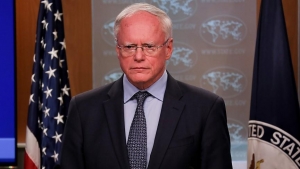 There is no unanimity in Washington over support for Turkey in Syria's Idlib because of Ankara's purchase of Russian S-400 defence systems, U.S. envoy James Jeffrey said on Thursday.
Fighting in Idlib has intensified in recent weeks as Russia-backed Syrian government forces mounted an offensive to retake the last rebel-held bastion in the country, displacing nearly a million people.
Turkey, which backs rebels fighting Syrian President Bashar al-Assad, has launched a counter-offensive and asked its NATO allies for support, including a request to the United States to use U.S. Patriot missile defence systems.
However, Washington and Ankara have been at odds over Turkey's purchase of the Russian missile systems, which Washington says are not compatible with NATO defences and may compromise its F-35 stealth fighter jets.
Speaking in Istanbul, Jeffrey repeated that Washington had already offered humanitarian assistance and information sharing with Turkey, but added that U.S. officials were divided over any further support.