Martyn Frampton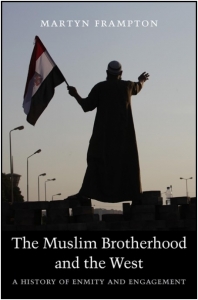 The Muslim Brotherhood and the West is the first comprehensive history of the relationship between the world's largest Islamist movement and the Western powers that have dominated the Middle East for the past century: Britain and the United States.
In the decades since the Brotherhood emerged in Egypt in the 1920s, the movement's notion of "the West" has remained central to its worldview and a key driver of its behavior. From its founding, the Brotherhood stood opposed to the British Empire and Western cultural influence more broadly. As British power gave way to American, the Brotherhood's leaders, committed to a vision of more authentic Islamic societies, oscillated between anxiety or paranoia about the West and the need to engage with it. Western officials, for their part, struggled to understand the Brotherhood, unsure whether to shun the movement as one of dangerous "fanatics" or to embrace it as a moderate and inevitable part of the region's political scene. Too often, diplomats failed to view the movement on its own terms, preferring to impose their own external agendas and obsessions.
Martyn Frampton reveals the history of this complex and charged relationship down to the eve of the Arab Spring. Drawing on extensive archival research in London and Washington and the Brotherhood's writings in Arabic and English, he provides the most authoritative assessment to date of a relationship that is both vital in itself and crucial to navigating one of the world's most turbulent regions.
"Rigorous yet absorbing… [Frampton's] book fills a crucial gap in the literature and will be essential reading not just for scholars, but for anyone seeking to understand the ever-problematic relationship between religion and politics in today's Middle East."—Malise Ruthven, Financial Times
"Breaks new ground by examining the links between the Egyptian Brotherhood's relations with Britain and, when it became the chief Western influence in the Middle East soon after the Second World War, with the United States."—The Times Literary Supplement
"Frampton exhaustively chronicles the history of the Muslim Brotherhood from its founding in 1928 to the Arab Spring of 2011."—John Waterbury, Foreign Affairs
"The West and the Brothers will continue to have a complex relationship. To explain that relationship, one must go beyond the rhetoric of a modernizing secular West and a conservative anti-modern Islamist trend. Frampton provides ample evidence to suggest that collision may not be inevitable, showing how it can give way to engagement and dialogue… [Full of] rich historical details of intricate relationships and intrigues."—Madawi Al-Rasheed, Times Higher Education
Martyn Frampton is Reader in Modern History at Queen Mary University of London.
Publisher: Harvard University Press
Paperback 672 pages £19.95
ISBN 9780674241664
Publication Date: 12/17/2019