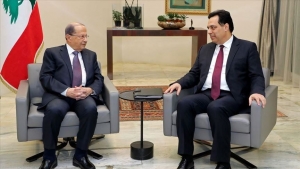 Secretary-General of Lebanon's Council of Ministers Mahmoud Makiya announced on Tuesday evening the formation of the new Lebanese government headed by Hassan Diab, an engineering professor and former education minister.
The new cabinet line-up, which comes nearly three months after the previous government resigned amid mass protests in the country, included 20 ministers, six of them are women.
Following a meeting with President Michel Aoun and Parliament Speaker Nabih Berri at the Presidential Palace, Diab insisted in his first comments as prime minister that his cabinet is made up of technocrats, who will strive to meet the demands of the protesters.
"This is a government that represents the aspirations of the demonstrators who have been mobilized nationwide for more than three months," Diab said, stressing that the cabinet will work on the new election law as well as for the recovery of looted public funds and the independence of the judiciary.
The mass protests, triggered by the country's worst economic crisis since the 1975-1990 civil war, forced then-Prime Minister Saad Hariri to resign on 29 October last year.