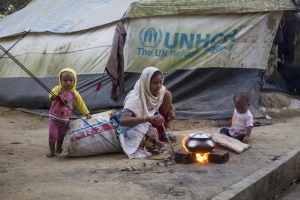 The UN Refugee Agency (UNHCR) is calling for increased support for Sudan with the launch of a new funding appeal that seeks $477 million to help over 900,000 refugees in the country together with nearly a quarter-million of their Sudanese hosts in the coming year.
The Sudan Refugee Response Plan, launched in Khartoum on Tuesday, foresees humanitarian activities by UNHCR with over 30 other partners.
"Sudan has a long history of hosting refugees and asylum seekers but also struggles with its own internal displacement while facing a severe economic crisis. Our call comes at a time when the country is going through a historical political transition and requires international solidarity to achieve peace and stability," UNHCR said in a statement.
The largest group of refugees hosted in Sudan are South Sudanese, with some 840,000 seeking shelter in the country since 2013. Resources are also needed for other refugees from nine countries who have sought safety from violence and persecution.
In the meantime, Sudan also continues to receive new refugees. In Darfur, an ongoing influx of refugees from the Central African Republic into remote parts of South and Central Darfur States has seen the number of refugees swell from just over 5,000 to nearly 17,000 in three months since September 2019.
While refugees often benefit from generous support provided by host communities, the ongoing economic crisis in Sudan has exacerbated the situation as local resources remain scarce.
In 2019, UNHCR operation in Sudan remained one of the most under-resourced with only 32 percent funds being available out of the needed US$269 million.