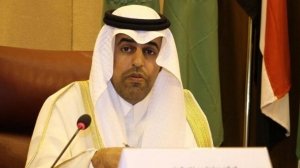 Arab Parliament Speaker Dr. Mishaal bin Fahm Al-Salami on Sunday urged Ethiopia not to harm Egypt and Sudan's shares of the Nile water, which represents the lifeblood of the Egyptian and Sudanese peoples.
This came in a written message sent by Al-Salami to Ethiopia's prime minister and head of the House of Peoples' Representatives to inform them of the Arab Parliament's resolution on full solidarity with Egypt and Sudan to protect their water security, as well as on the importance of reaching a fair and mutually beneficial agreement on filling and operating the Grand Ethiopian Renaissance Dam (GERD).
The parliament speaker also stressed the need for implementing the agreements signed between Egypt, Sudan and Ethiopia on the GERD project. He further affirmed the Arab Parliament's full support for all measures and endeavors taken by Egypt to reach a deal on filling and operation the dam.
Al-Salami's message to the Ethiopian officials also contained the text of the resolution approved by the Arab Parliament at its session in Cairo on October 30.