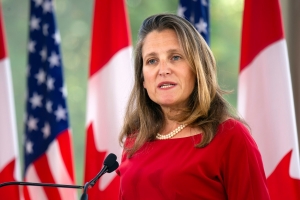 Canada has said it will support a genocide prosecution of the Myanmar government for systemic violence that forced more than 700,000 Rohingya Muslims to flee their country.
Canada's Foreign Affairs Minister Chrystia Freeland said in a statement the move will advance accountability for the crime of genocide, which includes mass murder, systemic discrimination, hate speech and sexual and gender-based violence.
The foreign minister noted that Canada, Bangladesh, Nigeria, Turkey, and France "have asserted that Myanmar committed genocide against the Rohingya."
The Gambia filed the genocide case on Monday with The Hague-based International Court of Justice (ICJ) on behalf of the Organization of Islamic Cooperation (OIC), an intergovernmental group of 57 Muslim countries.
"Canada will work with other like-minded countries to end impunity for those accused of committing the gravest crimes under international law," Ms. Freeland said.