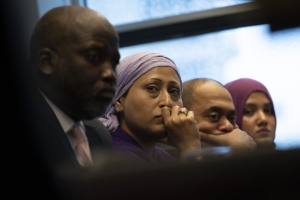 The Gambia instituted proceedings against Myanmar on Monday before the International Court of Justice (ICJ), the principal UN judicial organ, alleging violations of the Convention on the Prevention and Punishment of the Crime of Genocide.
Specifically, The Gambia argues that "from around October 2016 the Myanmar military and other Myanmar security forces began widespread and systematic 'clearance operations' against the Rohingya group," noted an ICJ press release.
It said that the genocidal acts were aimed to destroy the Rohingya as a group, in whole or in part, by the use of mass murder, rape and other forms of sexual violence, as well as the systematic destruction by fire of their villages, often with inhabitants locked inside burning houses.
Further, Gambia's application noted that from August 2017 onwards, such genocidal acts continued with Myanmar's resumption of "clearance operations' on a more massive and wider geographical scale." The Gambia contends that these acts constitute violations of the Genocide Convention.
In its application, The Gambia "respectfully requests the Court to adjudge and declare that Myanmar: has breached and continues to breach its obligations under the Genocide Convention".