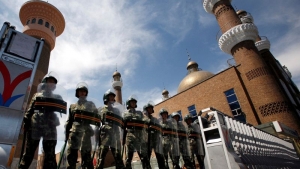 The United States has imposed visa restrictions on Chinese government and Communist party officials accused of being involved in the mass internment of more than a million Uighurs and other Muslim minority groups in Xinjiang province.
The restrictions, announced by the State Department on Tuesday, come a day after the US Commerce Department imposed export restrictions on American companies preventing them from selling their products – particularly face recognition and other surveillance technology – to 28 Chinese entities, including the Public Security Bureau and firms involved in surveillance in Xinjiang.
"China has forcibly detained over one million Muslims in a brutal, systematic campaign to erase religion and culture in Xinjiang. China must end its draconian surveillance and repression, release all those arbitrarily detained, and cease its coercion of Chinese Muslims abroad," US Secretary of State Mike Pompeo said in a statement.
The US punitive measures mark the first time China has been held to account internationally for its program of mass incarceration and persecution of religious minorities.