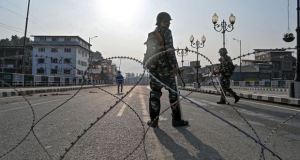 The Muslim Council of Britain (MCB) urged recently, the British Government to demand a halt to the provocative actions by India as they continue to lay siege on Kashmir and curtail further the rights of its people.
Hundreds of thousands of Indian troops occupy the region, its political leaders are under house arrest, and communication has been all but cut off. Many British Muslims have family ties to the area and are naturally anxious about the deteriorating situation there.
In recent days the Indian Government has illegally revoked Article 370 of its constitution which had ensured the protected status of the Indian-controlled state of Jammu and Kashmir. The decision is being now challenged in the country's Supreme Court.
India's action also contradicts a series of international resolutions and obligations, including UN Security Council Resolution 47, which required India to establish a coalition government to work with the 'Plebiscite Administrator' nominated by the United Nations, to work towards 'a free and impartial plebiscite.'
For his part, Secretary General of the Muslim Council of Britain, Harun Khan said: "As a member of the UN Security Council, with a stated desire to uphold the rules-based international system, it is imperative that our government make its voice heard.
British Muslims, many of whom have family ties to the region, expect our government to uphold our values, the rule of law, and human rights. India's latest action turns further this Muslim-majority region's status into effectively an Indian colony. And withing the rising of extremism and mob-violence orchestrated against Muslims in the rest of the country, there is a deep concern about the fate of Muslims in Kashmir.
We echo the calls of British Members of Parliament calling for action on the matter. We do not want to see yet another senseless conflict over Kashmir, which will have repercussions elsewhere. We urge all parties to play their part in pursuing peace. The UK has a historical role and duty to press for peace in Kashmir."