The Iranian Metaphysicals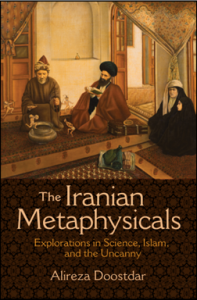 Explorations in Science, Islam, and the Uncanny
By: Alireza Doostdar
What do the occult sciences, séances with the souls of the dead, and appeals to saintly powers have to do with rationality? Since the late nineteenth century, modernizing intellectuals, religious leaders, and statesmen in Iran have attempted to curtail many such practices as "superstitious," instead encouraging the development of rational religious sensibilities and dispositions. However, far from diminishing the diverse methods through which Iranians engage with the immaterial realm, these rationalizing processes have multiplied the possibilities for metaphysical experimentation.
The Iranian Metaphysicals examines these experiments and their transformations over the past century. Drawing on years of ethnographic and archival research, Alireza Doostdar shows that metaphysical experimentation lies at the center of some of the most influential intellectual and religious movements in modern Iran. These forms of exploration have not only produced a plurality of rational orientations toward metaphysical phenomena but have also fundamentally shaped what is understood as orthodox Shi'i Islam, including the forms of Islamic rationality at the heart of projects for building and sustaining an Islamic Republic.
Delving into frequently neglected aspects of Iranian spirituality, politics, and intellectual inquiry, The Iranian Metaphysicals challenges widely held assumptions about Islam, rationality, and the relationship between science and religion.
Alireza Doostdar is an assistant professor of Islamic Studies and the anthropology of
religion at the University of Chicago.
"Important and highly original."–Nile Green, Los Angeles Review of Books
"Alireza Doostdar's The Iranian Metaphysicals stands as a rigorous and thoughtful contribution to this scholarship. Drawing on a rich ethnographic archive, Doostdar gives us a superbly argued and highly original exploration of Iran's 'metaphysical explorers.'"–Charles Hirschkind, Immanent Frame
"Beautifully written and argued, this powerful book turns our full attention to the rationality of enchantment in the modern world. Deftly weaving gripping stories with history, theology, and political considerations, Doostdar presents an important analysis of the landscape of Iranian metaphysical inquiry and a new, fresh perspective on the conditions and qualities of reason and rationalization in the world and in the anthropological inquiry."—Courtney Bender, Columbia University.
"Examining contemporary Iranians' wide-ranging experiments with the supernatural, including political-cultural and historical contexts, Doostdar demonstrates the profound 'edginess' of these practitioners: their doubts and concerns with respectability. This is a captivating read and an unprecedented book, certain to appeal to anthropologists and to Middle East specialists alike."—Cyrus Schayegh, Princeton University
Publisher: Princeton University Press
Hardcover 312 pages £66.00
ISBN:  978069116377
Published: 2018