Editor(s): Peter Morey, Amina Yaqin, Alaya Forte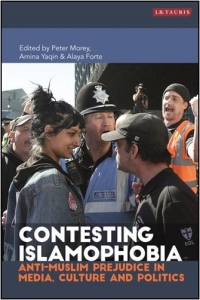 Islamophobia is one of the most prevalent forms of prejudice in the world today. This timely book reveals the way in which Islamophobia's pervasive power is being met with responses that challenge it and the worldview on which it rests.
The volume breaks new ground by outlining the characteristics of contemporary Islamophobia across a range of political, historic, and cultural public debates in Europe and the United States. Chapters examine issues such as: how anti-Muslim prejudice facilitates questionable foreign and domestic policies of Western governments; the tangible presence of anti-Muslim bias in media and the arts including a critique of the global blockbuster fantasy series Game of Thrones; youth activism in response to securitised Islamophobia in education; and activist forms of Muslim self-fashioning including Islamic feminism, visual art and comic strip superheroes in popular culture and new media. Drawing on contributions from experts in history, sociology, and literature, the book brings together interdisciplinary perspectives from culture and the arts as well as political and policy reflections. It argues for an inclusive cultural dialogue through which misrepresentation and institutionalised Islamophobia can be challenged.
"Both a primer for those new to the topic and a source of sophisticated conceptual advances for those already immersed, the range of topics covered by authors at the top of their game will provide insights for all. From literary fiction to Donald Trump, from superhero comics to real life military cultures, and from classroom toolkits to fantasy in the Game of Thrones, this collection informs and inspires challenges to the poisonous pervasiveness of contemporary Islamophobia." –  Reina Lewis, Centenary Professor of Cultural Studies, London College of Fashion, UAL, and author of Muslim Fashion: Contemporary Style Cultures.,
"Contesting Islamophobia is a very rich and distinctive collection that will be of interest to a broad international audience. A must read for students and scholars alike." –  Nasar Meer, Professor, University of Edinburgh,
Publisher: I.B. Tauris
Hardback 296 pages £91.80
ISBN: 9781788316149
Published: 30-05-2019