Jordanian Foreign Minister Ayman Safadi and EU High Representative for Foreign Affairs and Security Policy Federica Mogherin said that there is no alternative to a two-state solution for the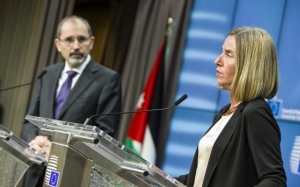 Palestinian-Israeli conflict, stressing that no economic proposal can replace a political solution on the basis of the two-state solution.
The remarks were made on Tuesday during a joint press conference that was held after they had co-chaired the 13th session of the Jordan-EU Association Council and following Safadi's participation in the meeting of the EU Foreign Affairs Council (FAC) in Luxembourg.
During the press conference, which was also attended by Commissioner for European Neighborhood Policy and Enlargement Negotiations Johannes Hahn, Safadi reiterated Jordan's commitment to enhancing its partnership with the EU and working towards eliminating common challenges.
The Jordanian minister reaffirmed that the Palestinian cause remains of the utmost priority, pointing out that peace will not be achieved without the establishment of an independent Palestinian state on 4 June 1967 lines with East Jerusalem as its capital.
Safadi explained that no economic proposal will replace the need to end the occupation, meet the Palestinians' rights to freedom and statehood and settle all final-status issues, at the top of which is the issue of refugees. He noted that any solution to the conflict must adhere to international legislation and must also guarantee the right of the Palestinian refugees to return to their homes.