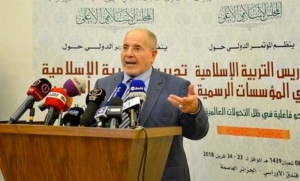 The Salafi move has corrupted minds in the Islamic World including in Algeria, said the president of the High Islamic Council (HCI) in a conference about the teaching of the Islamic education at schools.
'Islamic sects have always lived side by side without any problems, but the Salafi move has caused some problems,' said Bou Abdullah Gholam Allah.
Calling for more tolerance among the Islamic sects, Gholam Allah said, 'These sects are different in some but the same in many aspects, like belief in Allah and Islam.'
Islam has never agreed with extremism and Takfiri ideology, he said.
Algeria has had some problems regarding the issue; a famous Salafi preacher claimed one month ago that followers of Ashʿarism, Shiism, Sufism, and Muslim Brotherhood are not Sunnis.
His remarks drew some reactions in the government as well.