German Civil Rights Activist Taner Aksoy argues that anti-Muslim sentiment has had a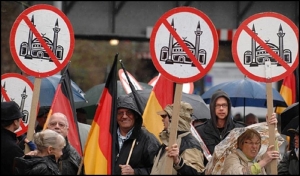 long history in Germany but is becoming increasingly violent because of external factors and the country's far-right Xenophobic campaigns.
Long-simmering tensions between Germany's far-right and Muslim minority have taken a dangerous turn. The country is seeing an increase in hate crimes against Muslims. Before 2017, German authorities labelled attacks against Muslims under the generic category of racism, but now they are recorded as "anti-Islamic" offences. In the first quarter of 2017, 208 crimes against Muslims were registered across the country.
Historically, the presence of Muslims in Germany dates back to the 17th century. The constant increase in Muslim life, on the other hand, took place at the beginning of so-called labour migration in the 1960s and 1970s. From 1961, recruitment agreements were concluded with Muslim states such as Turkey (1961), Morocco (1963), Tunisia (1965) and Yugoslavia (1968). As a result, Muslims came to Germany in greater numbers. Many of them, at least for the Turkish workers, as they were called at the time, had the intention to work for a few years in Germany, to make money and return to their home country. But they stayed permanently as we know today. They raised families, becoming not only workers but also, increasingly, employers over the course of time, TRT World News reported.
According to a study by the Federal Office for Migration and Refugees, which was commissioned by the German Islam Conference, there are currently between 4. 4 and 4.7 million Muslims living in Germany. Measured by the total population of Germany, the proportion of Muslims is between 5.4 percent and 5.7 percent.
Aksoy tells TRT World that resentment against Muslims has existed in Germany for several decades, taking various forms.  A managing director at FAIR International, a Cologne-based non-profit that focuses on social injustice and racism, Aksoy says Muslim shaming is now getting normalised in society, putting the entire community at risk.
Taner noted that resentment against Muslims has always existed. Previously, it was just "xenophobia. "Anti-Muslim racism did not arise suddenly (overnight). Rather, a transformation has taken place in the debate about migrants. After the turn of the millennium, the national debate shifted from ethnic issues to religion.
Turks and Arabs are now seen as Muslims. Over the past few years, an anti-Islamic attitude has emerged worldwide, reinforced by certain global events: attacks carried out in the name of Islam; the negative portrayal of Islam in the media; the rise of a "new right-wing" movement across Germany; anti-Muslim campaigns have hit the streets, and all this feeds Islamophobia in Germany.
Muslims were framed in stereotypes such as "terrorists" and "uncivilised." And Islam was defined as an ideology incompatible with Western values. The conservative and right-wing populist parties fuel this narrative. For example, after the attack in Madrid in 2004, mosques were put under surveillance in Germany even though the attacks had no links with them.
Such measures put Muslims under general suspicion. Statements by politicians such as "Muslims belong to Germany, but Islam does not trigger a sense of them and us" within the society. Also negatively and unilaterally, the wearing of headscarves in public was debated, questioning the fundamental human rights.
There is a spike in violence against Muslims in Germany. Could you explain why this sudden uptick has happened?
The one-sided media coverage was often used by racist and right-wing populist leaders in street demonstrations to spread negative attitude towards Islam, Aksoy said.
One example is PEGIDA (Patriotic Europeans against the Islamization of the West), which carried out so-called Montagsmärschen (Monday rallies) to suggest Islam posed a danger to Western culture.
This movement does not shy away from providing space to known racists in their demonstrations and events.
In the further course, this anti-Islamist attitude was used by the far-right political parties such as Alternative for Germany (AFD) to gain electoral leverage, taking it to several regional parliaments in Germany.
Therefore, the anti-Islamic sentiment in Germany has been normalised both in public and private spaces.
It is important to note here that the increasingly negative perception of Muslims is reflected in attacks on Muslims and their institutions. Thus it can be stated that last year we registered a total of 91 attacks on Muslim prayer houses. In the first quarter of this year, we recorded a total of 30 attacks on mosques. Furthermore, according to the Federal Government's response to a parliamentary question in the same period, a total of 208 offences driven by anti-Muslim hatred were registered.
Older and more recent studies show that Muslims are exposed to discrimination in every facet of life. On the job front, for example, Muslims face much more difficulty than non-Muslim applicants.
The same pattern is seen in house hunting. Muslims often don't get a lease because the landlord does not tolerate what he perceives as "foreigners" in the house.
Muslims also find discrimination in schools here, particularly, the ones wearing headscarves. Based on the consulting practice of our FAIR international association, we know that this is a serious problem. Often young girls who choose to wear a headscarf face problems with teachers and consequently they score low grades.
The headscarf is not only a problem in school. Headscarf-wearing Muslim women are also confronted with considerable difficulties at work places.