News
At least 10 killed in suicide attack in Mogadishu, Somalia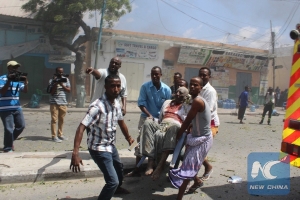 At least 10 people were killed when a suicide car bomb struck a famous hotel here Wednesday, officials said.
Mohamed Bulle, a police captain in Mogadishu, said armed men from the Somali terrorist group al-Shabaab stormed the restaurant at the Posh hotel after the explosion.
"Mogadishu special forces and the police launched rescue operation inside the hotel. We have rescued more than seven people, including foreigners from Kenya and Ethiopia," Bulle told Anadolu Agency.
The attack is largest in the Somali capital in the past month.
Somali-based al-Qaeda affiliated group al-Shabaab has claimed responsibility for the attack via Radio Andalus.