News
Iraq Describes MKO Eviction Process as "Outstanding Success"
Iraqi Foreign Ministry has voiced its "deep satisfaction" with the relocation of the last group of the MKO members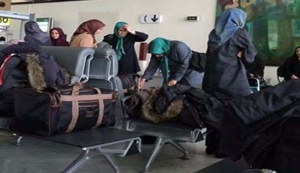 from Camp Hurriyet (Camp Liberty).
Iraq has hailed the expulsion of the remaining members of the anti-Iran Mujahedin-e Khalq Organization (MKO) terror group, describing the eviction process as an "outstanding success."
In a statement released on its website on Saturday, the Iraqi Foreign Ministry voiced its "deep satisfaction" with the relocation of the last group of the MKO members from Camp Hurriyet (Camp Liberty), a former US military base in Baghdad, "abroad…at the request of the Iraqi government."
The statement was published one day after the terror group said the last 280 of its members were all flown to Albania. The UN refugee agency also confirmed the transfer.
Iraqi leaders had long urged MKO remnants to leave the Middle Eastern state, but a complete eviction of the terrorists had been hampered due to the US and European support for the terrorist outfit.
International efforts to solve the crisis were met with "an outstanding success," the statement read, adding that Baghdad "has fulfilled all of its commitments in accordance with [the] Memorandum of Understanding signed with [the] UN in 2011 concerning the resettlement of members of Mujahedin-e Khalq in other countries."
It further expressed "gratitude for the measures and efforts" by the world body and a number of its member states, including Albania, that helped facilitate the relocation.
In 1986, the MKO members fled Iran for Iraq, where they received support from the then Iraqi dictator, Saddam Hussein, and set up Camp Ashraf, now known as Camp New Iraq, in Diyala Province near the Iranian border.
In December 2011, the UN and Baghdad agreed to relocate some 3,000 MKO members from Camp Ashraf to Camp Hurriyet.
The last group of the MKO terrorists was evicted in September 2013 and relocated to Camp Hurriyet to await transfer to third countries.
The MKO, the most hated terrorist group among the Iranians, has carried out numerous terrorist attacks against Iranian civilians and government officials over the past three decades.
Out of the nearly 17,000 Iranians killed in terrorist assaults since the victory of Iran's 1979 Islamic Revolution, about 12,000 have fallen victim to MKO's acts of terror.
There has also been a deep-seated resentment toward the outfit in Iraq both for its criminal past and its full support for Saddam in the brutal crackdown on his opponents.
Washington and the EU have removed the MKO from their lists of terrorist organizations. The anti-Iran terrorists enjoy freedom of activity in the US and Europe, and even hold meetings with American and EU officials; Press TV reported.