News
Australian deputy PM rejects calls to ban Muslim immigration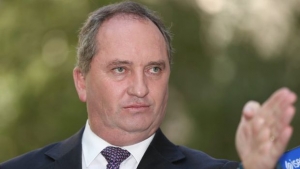 Australian Deputy Prime Minister Barnaby Joyce on Thursday rejected the recent calls made by many parties, particularly anti-Islam senator-elect Pauline Hanson, TV presenter Sonia Kruger, and MP George Christensen, to ban Muslim immigration from areas considered hotspots of "violent extremism".
"What happens if we turn that on its head and start banning people because they're Catholics or because they're Protestants or because they're Jewish?" Joyce said, criticizing calls by One Nation party to ban Muslim immigration to Australia.
"I'm not into banning people on the premise of their belief," Joyce told Sky News. He also said he was opposed to Hanson's calls for security cameras in mosques.
"If you can put them in mosques, then when I go to mass we're going to have one in a Catholic church?" Joyce said, in reference to accusations of child sexual abuse against Catholic priests.