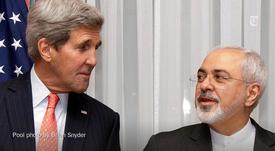 Iranian Foreign Minister Mohammad Javad Zarif and US Secretary of State John Kerry met this morning
for the second time in two days in the Swiss city of Lausanne in an effort to bridge the gaps over Tehran's peaceful nuclear program ahead of a June 30 deadline for a final accord.
Ali Akbar Salehi, the director of the Atomic Energy Organization of Iran (AEOI) and US Energy Secretary Ernest Moniz have also taken part in the high-profile meeting.
Since Sunday, diplomats and experts from Iran and the US have launched a decisive round of diplomacy in Switzerland to pave the way for a landmark nuclear agreement between Tehran and the Group 5+1 (Russia, China, the US, Britain, France and Germany).
Earlier on Monday, Zarif and Kerry held nearly five hours of talks in Lausanne before the top Iranian negotiator headed for Brussels to meet the European Union Foreign Policy Chief Federica Mogherini and foreign ministers of Britain, France and Germany.
Mogherini told reporters the talks in Brussels had been helpful. "We discussed all the remaining open gaps and the way forward," she said.
In Lausanne, the Iranian and American teams are expected to be joined later in the week by senior European officials and possibly foreign ministers, depending on how the talks develop.
Iran and the group of six countries are in talks to hammer out a final agreement to end more than a decade of impasse over Tehran's nuclear energy program.
As Iran and the United States are holding intense talks about Tehran's nuclear program in the Swiss city of Lausanne, a new poll shows that Americans broadly support direct negotiations with Iran.