News
Obama: Netanyahu was wrong about Iran's nuclear program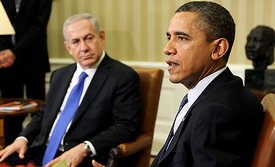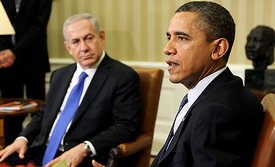 U.S. President Barack Obama said that Israeli Prime Minister Benjamin Netanyahu, who is currently on a
visit to Washington, was wrong about Iran's nuclear issue, stressing at the same time that he has no personal disagreement with him.
In an interview with Reuters, Obama said that Netanyahu was wrong about the 2013 interim deal with Iran to freeze part of its nuclear activities in return for lifting part of the imposed international sanctions on Tehran.
"Netanyahu made all sorts of claims. This was going to be a terrible deal. This was going to result in Iran getting $ 50 billion worth of relief. Iran would not abide by the agreement. None of that has come true," Obama said. "It has turned out that in fact, during this period we've seen Iran not advance its program. In many ways, it's rolled back elements of its program."
There is "substantial disagreement" with Israel over how to deal with Iran, Obama said, but he downplayed the dispute with Netanyahu.
"This is not a personal issue," Obama added. "I think that it is important for every country in its relationship with the United States to recognize that the U.S. has a process of making policy."